Background
16 Communities, 37 Million People. One Goal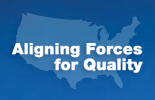 Aligning Forces for Quality (AF4Q) is the Robert Wood Johnson Foundation's signature effort to lift the overall quality of health care in targeted communities, reduce racial and ethnic disparities and provide models for national reform.
AF4Q asks the people who get care, give care and pay for care to work together toward common, fundamental objectives to lead to better care. The 16 geographically, demographically, and economically diverse communities participating in AF4Q together cover 12.5 percent of the U.S. population.
What we do
Can bringing together the people who give care, get care, and pay for care improve quality in America?
AF4Q communities are proving it can.
After six years, AF4Q communities have built transformative partnerships, often
where none existed before:
Aligning Forces for Quality is proving that by working together—we can solve some of the most vexing problems of our health care system..
Learn more about the momentous challenges faced by AF4Q and our work.
Contact